Smile Make Over
Improving the appearance of your smile can make such a difference. This is often achieved through one or more cosmetic dentistry procedures such as teeth whitening, porcelain veneers, and gap filling.
Our approach and recommendations take into consideration many aspects including: your teeth colour, alignment and spacing, presence of chipped or broken teeth, and any individual tooth discolorations.
We always take the time to listen and to explain the options. Whether you are seeking a subtle natural look, or a more extensive smile make over, then talk to us about your requirements. We will explain your treatment options and help you choose the best solution for you.
Key Facts
Our services are tailored to meet your individual requirements. We take into consideration your dental care preferences, lifestyle, budget and key concerns.
At your initial consultation we will undertake a comprehensive assessment of your smile. We will discuss with you the various options and we will take the time to explain our recommended approach.
Your dental smile make over may involve one or more cosmetic dentistry options.
Length of Treatment: your smile make over may be completed in a single day or we may take smaller steps over a period of time.
This patient wanted to improve the appearance of her front four teeth and therefore her whole smile. This was achieved with four porcelain crowns over three appointments, while the patient lived in Auckland.
To see photos of our completed work please visit our photo gallery.
If you would like to arrange your initial consultation or you wish to understand more about our dental smile make overs and/or our cosmetic dentistry services please Contact Us.
Related Cosmetic Dentistry Articles
Cosmetic Dentistry – A Time For Change
Join us as we review the myriad of possibilities available to you for cosmetic dental change. But the biggest part is not just how your smile looks, it's how you feel when you show it... Read Article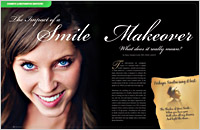 The Impact of a Smile Makeover
Americans are catching on to the emotional and social importance of a healthy, beautiful smile, and they're seeking out ways to improve their smiles. Learn why and what a change could mean for you... Read Article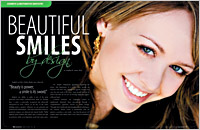 Beautiful Smiles by Design
The first in a series of articles dedicated to the "art and science" of designing a more appealing smile. One of the country's foremost leaders in cosmetic dentistry discusses how you and your dentist partner to create a great new look... Read Article
How And Why Teeth Wear
Are teeth supposed to last for a lifetime? And are humans designed to live for up to a hundred years? Given all the current improvements in the areas of medicine and health, both general and oral, people are not only living longer, but they are also keeping their teeth longer. This article will provide an overview of the "oral system" and one of its more common and important occurrences, tooth wear... Read Article